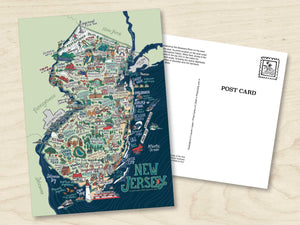 Available In-Store and Online
This New Jersey illustrated map postcard is a perfect blend of history and pop culture - you'll find the site of the Burr / Hamilton duel, Action Park, Lucy the Elephant, Asbury Park's Tillie, the Jersey Devil and the Hadrosaurus, plus 70+ other places and things of interest. Don't worry, this postcard is oversized, so there is plenty of space to fit it all, AND write a sweet message on the back.
This is the perfect postcard to send to someone living in NJ or a former resident who has moved to another state but still thinks of NJ as home.