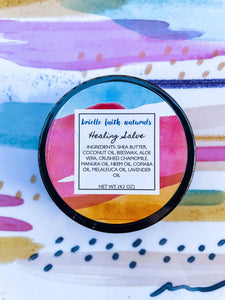 Available In-Store and online.
Looking for an all natural way to treat eczema, psoriasis, cracked skin or minor skin irritation? With the healing power of the combination of these moisturizing, anti bacterial and healing ingredients, this salve is sure to soothe and heal over time.
**Please consult with your doctor/pediatrician before using to treat specific ailments** 
• 4.2 oz. jar

Directions: Apply as needed throughout the day. For best results, avoid using artificially scented lotions and harsh soaps.