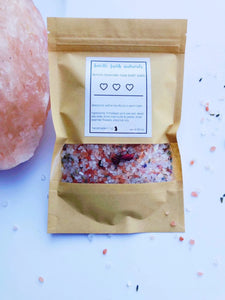 Available In-Store and online.
Light some candles and take a night off to relax, revitalize your skin, detox and have a better nights sleep with these lavender and lemon essential oil infused bath salts.

Himalayan pink sea salt: 100% natural and pure. Mineral rich salt that heals, renews and detoxifies. Great for healing skin conditions like dry skin, psoriasis and acne.

Dead sea salt: Pure and natural imported from the Dead Sea. Relieve stress stiffness and ease muscle aches and pains.

Dried botanicals (lavender & rose): Promotes glowing skin, relaxes the body and reduces stress. Contains natural oils that will lock moisture into skin.

•Aromatherapy •

Lemon essential oil: Stimulating while still calming. Anti bacterial, detoxifying, antiseptic.

Lavender essential oil: reduces anxiety and emotional stress. Improves brain function. Relieves pain, slows aging process and restores skin complexion. Improves sleep.

Weighed at 8.5 ounces per bag.